The
public health crisis
in America's abortion clinics is real.
Unlicensed practitioners. Untrained staff.
Unsanitary medical conditions.
Unsuspecting victims.

UN

SAFE CONDITIONS
Americans United for Life uncovers the real evidence and incredible true stories about real medical risks women face inside abortion clinics
Jennifer Morbelli.

Deceased.
After her abortion, Jennifer was unable to reach abortionist LeRoy Carhart when she suffered from chest pain and other discomforts. Jennifer suffered massive internal bleeding in her abdominal cavity and slipped into a Code Blue condition approximately six times before dying.
antonesha ross.


Deceased.
Forty minutes after Women's Aid Clinic in Chicago performed a five-minute abortion on 18-year-old Antonesha, clinic employees called an ambulance. Instead of performing CPR, clinic staff offered Antonesha a bag to breathe in. She was pronounced dead in the emergency room shortly thereafter.
tonya reaves.


Deceased.



Tonya bled to death after a Planned Parenthood abortionist in downtown Chicago lacerated her uterus during the abortion. The abortion procedure began at 11:00 a.m., but Tonya was not transported to a hospital for emergency care until 4:30 p.m. Had Planned Parenthood not delayed seeking emergency care, would Tonya be alive today?
There are a lot of companies coming forward to bring awareness about the health crisis going on to help fight for women who are victimized by underregulated, inadequately monitored, sometimes horrific settings, hidden from public scrutiny.
PROTECT WOMEN
Urge your legislators to demand investigations into your state's abortion facilities.
Join us in fighting for women who are victimized by underregulated, inadequately monitored, sometimes horrific settings, hidden from public scrutiny. AUL has documented more than ONE THOUSAND significant violations through out the country and is prepared to work with legislators across the country to address this crisis.
Add your name to this petition, asking your legislators to protect women and their unborn children from an abortion industry that puts profits over people, by enacting health and safety standards and providing appropriate oversight for abortion facilities.
By signing this petition, you agree to have Americans United for Life send you email updates.
Just the
Tip of the Iceberg
32 States
754 Clinic Violations
39 Planned Parenthoods
34 license revocations
65 chronic offenders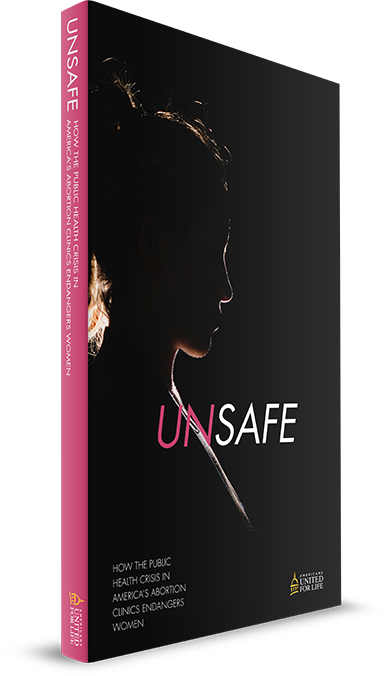 SPREAD THE WORD
With the Supreme Court's recent decision in Whole Woman's Health v. Hellerstedt, prioritizing "mere access" to abortion facilities and abortion industry profitability over women's health and safety, we can expect that the problem will get worse. Pro-life Americans and their elected representatives must take immediate action to confront and remedy the abortion industry's dangerous practices.
Give to keep up the momentum